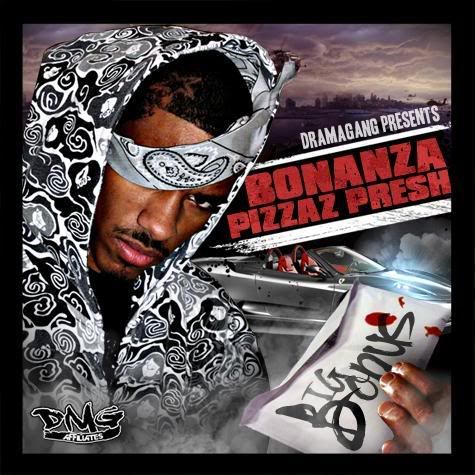 Unexpected is the word I would use to best describe Bonanza Pizazz Presh's new mixtape Big Bonus. With a DJ THRUDAROOF introduction, followed by a flurry of quotable punchlines you quickly understand why Pizzaz is his middle name. The young MC breaks local norms with his undeniable swagger, and a flow more similar to east coast rappers like Fabolous, J.R. Writer or Cory Gunz than the usual over exaggerated "country twang" that has flooded the Kentucky rap scene in recent years.
With twenty hot tracks and a variety of subject matter, Big Bonus has something for everyone. His standout tracks include "Greatest Flow," "You understand Me," and PIDV staffers favorite "I'm Bout My Money." Though Presh's album has many features which includes the likes of Louis Keyz, Lil Trey and Drama Gang alumnus J-Ville, and Swagg, the spotlight is definitely on Presh the whole time. With most of the beats produced by Drama Gang's very own Homeyhill, the only true disappointment with the Big Bonus is the lack of variety in beat selection.
Overall the album was a great effort and PIDV cant wait to see this cat blow, PIDV gives it a 3.5/5
Be sure to look out for Bonanza Presh's next effort "The Big Bonus Volume 2. Three Thumbs Up" with appearances from Hurraseason, Buckshot and B. Simm.
CLICK HERE TO CHECK OUT BONANZA PRESH'S MYSPACE
DONT FORGET TO ENTER THE BONANZA PRESH MIXTAPE GIVEAWAY by sending an email to charliehustle86@gmail.com with "Bonanza Presh" in the subject line!