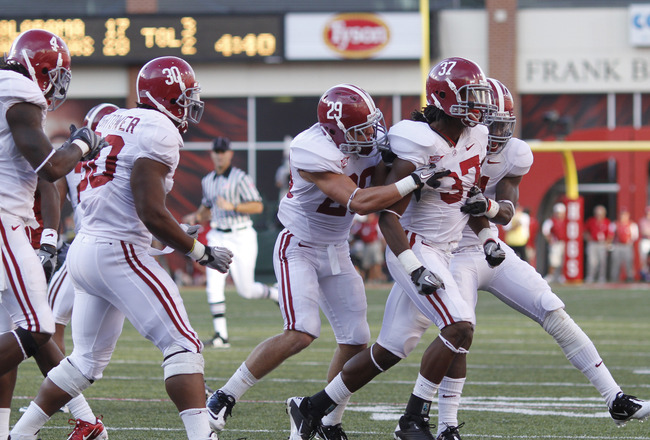 Tonight starts off what looks to be an interesting weekend of college football. Although, games do start tonight, it won't be until Saturday when the action really picks up. What is likely to be the most competitive weekend of the season so far brings four Top 25 match-ups, games with possible conference title implications, and a coach welcoming his former team into his new home.
No. 3 Alabama vs No. 14 Arkansas ( Tuscaloosa, AL, Saturday, 3:30pm, CBS)
These two foes will battle in a game that may leave the winner in the running for the SEC West, and the other playing catch up. This year, the Razorbacks hope to redeem themselves from a 24-20 lost to the Tide last year, in which they gave up a two touchdown lead. As with previous years, this game will feature Bobby Petrino's high-powered offense versus Nick Saban's suffocating defense, but Arkansas' defense has been said to be the best under Petrino. Alabama comes in as the SEC leader in total offense, so Petrino's defense will get its first, and a very tough, test. Alabama is a 12 1/2 point favorite in this game and I expect them to hold that down.
No. 7 Oklahoma State at No. 8 Texas A&M (College Station, TX, Saturday, 3:30pm, ABC)
If you like a lot of offense and hints of defense here and there, then this is the game you need to tune into. The Aggies and Cowboys average an astonishing 94 points per game together. To counter that, the Aggies only give up 10.5 points per game, while the Cowboys allow an unimpressive average of 27 points. Last year, this game was regarded as one of the best in the Big 12 and also decided the winner of the Big 12 South. This year, the Big "12" (there are only 10 teams now) is one big conference and this game will likely decided who still has a change of winning the conference title. Texas A&M is a 4 1/2 points favorite, but I think OSU will take this one and raise A&M's defensive point average.
No. 11 Florida State at No. 21 Clemson (Clemson, SC, Saturday, 3:30pm, ESPN)
Just like the last two games, this one has huge significance. FSU and Clemson are the only two teams ranked in the Atlantic Division of the ACC. Unless one of these teams fall of during the remainder of the season, the winner of this game should come out as the Atlantic Division champion and possibly the overall ACC champ. FSU's coming off a loss to top ranked Oklahoma while Clemson is coming off what some call an upset over defending champion Auburn. The Seminoles haven't won in Death Valley since 2001. Don't expect them to break that streak with the status of their starting QB EJ Manuel uncertain following an injury last week. Clemson will take this one and head to the top of the Atlantic Division standings.
No. 2 LSU at No. 16 West Virginia (Morgantown, WV, Saturday, 8pm, ABC)
This game features a team who might be the most impressive of the season thus far. The Tigers of LSU already have two impressive, dominating wins over top 25 teams. Their defense is 6th in the nation in yards allowed with just under 208 per game and they're allowing an average 12 points per page. West Virginia with its high scoring offense is 3-0, but hasn't been as impressive as LSU, nor have they faced any tough competitors yet. As LSU's third ranked opponent this year, the Mountaineers should provide a challenge, but I expect them be handled in the fashion LSU's other competitors have been.
No. 22 Michigan vs San Diego State (Ann Arbor, MI, Saturday, 12pm, Big Ten Network)
The main, and possibly the only, reason this is a top game is Michigan Head Coach Brady Hoke. The man in charge of the Wolverines was the head of the Aztecs the past two years. All doubts aside, this game was scheduled while Hoke was at San Diego State. Although Michigan is 3-0, they did show many weaknesses in their defense during their 35-31 win against Notre Dame. That is why this game is on the upset alert for many. The Aztecs come in the game with the nation's second leading rusher in Ronnie Hillman. While he'll provide a challenge for Michigan's hit & miss defense, the Aztecs will face a bigger challenge trying to stop Denard Robinson. Robinson has ate up 739 total yards and six touchdowns the past two games. Expect him to lead Michigan to covering their 10 1/2 point favorite and moving to 4-0 this season.
Other games to check for:
No. 25 Georgia Tech vs North Carolina (Atlanta, GA, Saturday, 12pm, ESPN)
No. 23 USC at Arizona State (Tempe, AZ, Saturday, 10:15pm, ESPN)
No. 10 Oregon at Arizona (Tucson, AZ, Saturday, 10:15pm, ESPN2)
[Sports] College Football Top Games (Week 4)

,